The best meal in Santiago came during our last night in Chile. We received an invitation to visit one of the city's newest spots for dinner, La Misión Restaurant & Wine Bar.
Located in the Vitacura region of Santiago, known for its high-end shopping and great restaurants, La Misión opened to the public in November 2016 and became an instant hit.
Chef Jonathan Michel, who recently earned the "Revelation Chef of the Year" award granted by the Circle of Gastronomic Journalists of Chile, has crafted a menu that pairs his foundation in French cuisine with Japanese influences and traces of traditional Chilean cooking. Each option has been specifically tailored to the venue's wine selection to enhance the dining experience.
We visited on a Monday evening, so we were able to benefit from having the full attention of our waiter to really dig deep when explaining the origins of each wine. If you want an in-depth experience, we suggest having dinner earlier in the week. From Thursday on, the restaurant is packed, so plan in advance and reserve a table if you're considering a visit later in the week.
With over 420 wines, at least one from every wine producing country (41 of the aforementioned being served by the glass), the restaurant is a wine-lover's dream. Our waiter doubled as our sommelier (all of the staff is versed in the massive wine collection) and not only did he help us pick a selection that would pair well with our meals, he also educated us on each wine we tasted, as well as exposed us to new wines that fell within our flavor inclinations.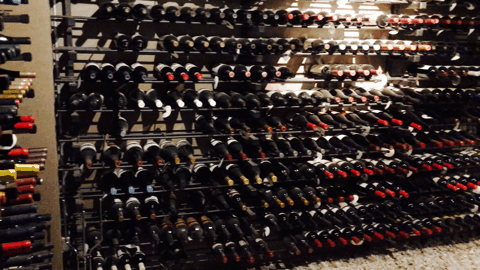 Fret not. For those of us who are not fluent Spanish speakers, La Misin has English speaking waitstaff to assist with your dining experience.
TIP: Start with a flight and ask your sommelier for a sharing plate that best pairs with your flight to set the tone for your meal.
For the first course, we ordered the charcuterie plate and the ceviche, and Christian (our sommelier) suggested two wine flights that featured wines that would pair well with those selections. The ceviche became the center of attention. It was a fresh take on a seafood classic, and incredibly tasty.
For the wine flight, I went with the Pacific Coast Expression, which consisted of a chardonnay, a riesling, and a sauvignon blanc, all from Chile's ocean facing vineyards.
For the main course, we tasted two dishes, the fish of the day and the angus blade. The palometa fillet with cinnamon and a vegetable caviar is definitely worth ordering. Cinnamon isn't usually what I think of when seasoning fish (I later learned this technique was borrowed from Japanese cuisine), but the flavor was unique, and most importantly, balanced and delicious. I stuck with one of the sauvignon blancs I tasted from the first flight we were served and it was a great compliment to the course.
The Angus Blade with the grilled mashed cauliflower was another great choice. The cut was incredibly tender and the cocoa seasoning was a welcome surprise. The waiter suggested a local Carmenere for pairing, and it balanced the dish well.
For dessert, we recommend trying the banana bread with a passion fruit, orange and lemongrass sorbet. The sorbet was incredibly tart and paired well with my final white wine of the evening. Another great option is the nectarine tart with yogurt ice cream.
In short, La Mision is the perfect opportunity to kill two birds with one stone. If by chance, you can't make it to a nearby vineyard, you can take a tour of wine here and pair it with a wonderful meal. You will have the best dining experience if you allow yourself to be open to tasting new wines. Your sommelier will expand your horizons, if you let them!
La Mision is perfect for:
an upscale dining experience to splurge on while in Santiago
an educational wine experience, regardless of wine expertise
a wine-tasting experience without having to make the trek to a nearby vineyard
MUST HAVES:
Ceviche
The fish of the day
A Pisco Sour from the bar as a final drink.
TIPS:
Visit on a Monday for personal attention.
If it's warm, request a table on the terrace (they also have an option for a cigar terrace, if you'd like one with your meal)
Learn more about La Mision here: lamisionsantiago.cl
Do you have any recommendations for great places to eat in Santiago? Let us know in the comments below!