Are you ready to take a journey with Black & Abroad?
Dakar, the largest city in Senegal, is home to diverse people, unique experiences, and rich history. In May 2020, we're bringing a hand-picked group of individuals together to immerse themselves in the soul that runs through this magical city.
We've crafted a flow of unforgettable moments and experiences that will set a new standard for how you travel in the future. At the end of this travel experience, you'll become an explorer who walks away with a true taste of what Senegalese culture has to offer, complimented by a new set of friendships, and a deeper connection to Africa.
ITINERARY
day 1: WELCOME TO DAKAR!
You're finally here! We'll whisk you away from DSS Airport after your arrival into the city and take you to your 5-star accommodations. After you get settled into your new digs, we'll introduce you to the rest of your crew for the week; an intimate group of individuals from all over the world ready to experience Dakar's culture and history. As a group, we'll all head to our welcome dinner and kick off our new journey together.
day 2: The REAL DAKAR!
The best way to get to know a destination is by gaining a bit of its history. Today, we'll be taking a tour that gives you a deep dive into Dakar's roots. We'll immediately immerse ourselves in the local culture by trekking through the city, sampling local foods, learning about the people and getting our first taste of "teranga," visiting local markets, and stopping at the African Renaissance Monument to take in the amazing view.
day 3: DAkar & CHILL
Now that you've got your feet wet in Dakar, today's the perfect opportunity to discover some of the things that make the city so great. Get to know your new travel companions, check out that cool spot your friends back home recommended, stop by the local markets, or hang out with a glass of fresh bissap poolside at our lush accommodations. Today is your day to do as you please.
In the evening, we'll head to a local club to vibe to some Senegalese mbalax music over great food & drinks and even better company!
DAY 4: A DaY OF HISTORY
Today, we'll be taking a journey to Goree Island, a tiny, car-free island off the coast of Dakar, known for its role in the Atlantic slave trade. We'll visit the House of Slaves and the Door of No Return, which is believed to be one of the the final exit points for many men, women and children from Africa being brought to the Americas. You'll walk away with a history lesson you won't get in any textbook.
day 5: Surf's UP!
Bring your sunscreen because today is all about the beach! We'll be heading out of Dakar and to the gorgeous Ngor Island for surfing lessons and relaxation. Vibe out while you have a meal of the freshest thiof and soothe yourself in the crystal clear waters.
DAY 6: BACK TO NATURE
Today, we'll head just outside of Dakar to visit the Bandia Reserve for a safari to catch a peek at some of the Big 5!
After our safari, we'll trek over to Saly and enjoy lunch and a day in the lazy beach town. In the evening, we'll come together one last time for a celebratory dinner. Let our last meal together as a travel crew be a time to reflect on the unforgettable week Senegal gave you, and for the memorable experience you gave yourself.
DAY 7: IT'S SO HARD TO SAY GOODBYE
We know, it feels like you just got here, but it's time to say goodbye. Use today to check off those final items on your list for the city before it's time to head home. The week may have flown by, but the memories and friendships you've made will last forever.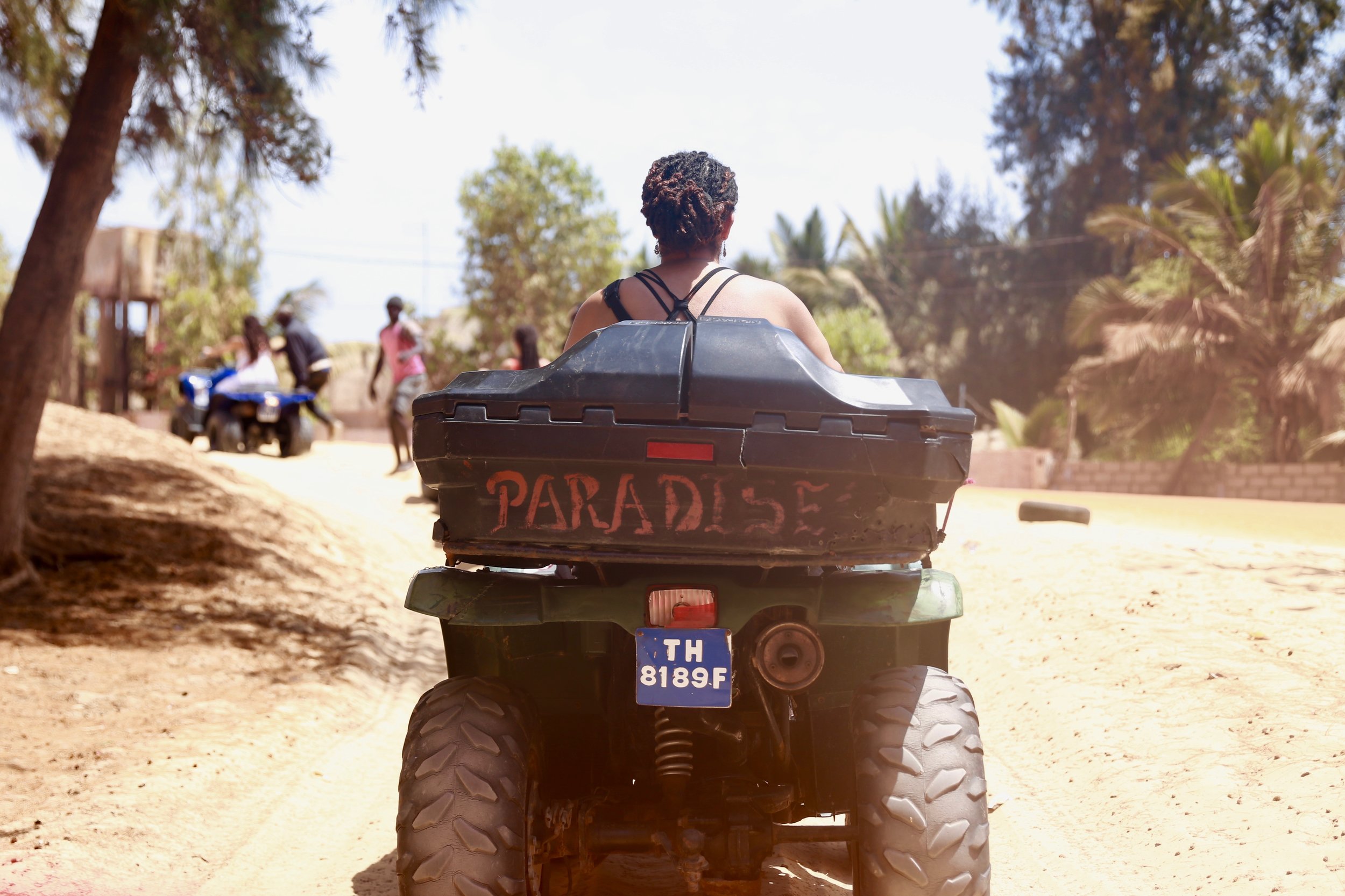 What's Included?
We've carefully crafted an itinerary tailored to give you a deep dive into all that Senegal has to offer. In addition to soaking in Dakar's rich history, you'll be there to hang with the locals and get a true Senegalese experience! And most importantly, we've done all of the planning and hard work for you. Just show up ready to enjoy yourself!
THE City
Dakar is one of West Africa's most vibrant destinations. Filled to the brim with an assortment of attractions, Dakar is a cultural enclave of soul and innovation with something to offer everyone. The music, the people, and most importantly, the history make Dakar a city to remember.
THE Coast
Senegal's beaches are second to none and you'll have full access to enjoy the unbelievably blue waves and warm sands. Soak in the sun, the views and the soothing sounds of the water. You'll return home with a tan that will make all of your friends envious they didn't join you!
THE COMFORTS
Your home away from home for the week is a lush, boutique accommodation in one of the exclusive areas in Dakar, but just a stone's throw from popular attractions. You'll find it's the perfect place to relax and lay your head after a day of exploring in the city. And yes, there's wifi!
THE CULTURE
Senegal's cultural pockets provide several opportunities to really dig into the city life, and we've built in time in the itinerary for you to freely explore and immerse yourself. From the open markets in Sandanga & Kernal to the jazz clubs & art galleries throughout the city, there's a little something for every taste.
THE COMPANY
The Black & Abroad travel community is full of individuals worldwide with a lust for exploration and the appreciation for a deeper travel experience. These are the people who will be joining you on this journey. We've intentionally limited our journeys to no more than 16 travelers to make sure everyone gets the appropriate attention & the chance to connect with like-minded individuals.
THE CAPTURE
Live in the moment and let someone else record it! Our professional photographer will be there every step of the way to capture the best points in your journey, and you'll get those photos throughout your stay to share with your friends and family back home.
Your Investment
EARLY BIRD SPECIAL: FOR A LIMITED TIME, DEPOSITS ARE ONLY $399!
*Offer expires on Nov 15th
Your investment of $2799 (or if you are utilizing our payment plan option, an initial deposit of $399 (for a limited time, a discounted deposit of $200 off the normal $599 deposit amount), and 6 monthly payments of $433 - totaling $2999) includes:
6 nights at an upscale, 5 star accommodation*

Transfers to/from DSS airport

All activities on itinerary and transportation to/from activities

All breakfasts and lunches, 2 dinners (alcohol not included unless indicated-- see itinerary for additional details)

Personal travel concierge to take care of all of the questions you may have

A professional photographer commissioned to capture those unforgettable moments during your journey

Your own Black & Abroad Journeys Traveler's Kit, with exclusive Black & Abroad gear

A few surprises!
*Accommodation is in a shared room with one other person. We may also have a limited number of private rooms available on a first come, first served basis (for an additional fee). If you are interested in a private suite, please contact us regarding availability.
What's Not Included?
Flight to/from Dakar

Travel Insurance (we recommend purchasing coverage for your trip)

Alcoholic beverages

Incidental room charges in hotels/accommodations

Individually selected activities during your free time (i.e. jet-skiing**)

Individual tips to experience providers and venues
Are you coming?
There comes a time when you have to decide what kind of traveler you want to be. Here's a chance to transition from tourist to journeyer.
This Black & Abroad Journey has been meticulously designed to tap into our three principles:
EXPLORE the world. EMBRACE the culture. EMPOWER the people.
To ensure that we remain true to our mission, we've partnered with local businesses, guides, and venues to give you a truly Senegalese experience. From your one-of-a-kind hotel, to guides who have a deep connection to Dakar's history, your journey with us is a step above the experience you'd receive from a mass market, run-of-the-mill tour. This isn't a vacation. This is a journey. Are you ready?
Senegal is waiting for you.
GUEST REVIEWS
Want to know what it's like to travel to Senegal with Black & Abroad? Check out some reviews from previous journeys!